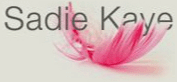 Taking the World by Brainstorm!
Sadie has been appointed creative director and editor of Brainstorm, a glossy quarterly magazine and film & media platform promoting awareness of mental health issues, all forms of artistic expression, creative ingenuity, innovation & social enterprise. Brainstorm is owned by Brainstorm Media Ltd.
To submit artwork, articles, films, poetry and creative writing for consideration, kindly email submissions@brainstormmedia.org. Brainstorm's awesome ambassadors are Mat Ricardo, Philippe Joly, Simone Lahbib, Nick Samuel, Charlotte Farhan, James Daly, Owen Fitzpatrick & Raff DeGruttola.