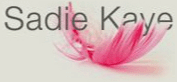 Sadie Rides Bipolar Express on RTHK and launches Bipolar Hong Kong!
Sadie is producing & presenting a documentary about bipolar disorder, Bipolar Express, for RTHK Radio 3. Guests include the irrepressible Ruben M, comic Josh Walters, Hong Kong ballerina Kiki Wong and psychiatrist (Sadie's psychiatrist!) Dr. Barry Connell.
Bipolar in Hong Kong? Join Bipolar HK! The non-profit group offers free, monthly support groups in Central and Sai Kung, 121 peer mentoring, articles, op-eds, creative inspiration and humor!