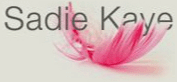 Sadie rides The Bipolar Express for RTHK and Launches Bipolar Hong Kong!
Sadie is producing & presenting a documentary about bipolar disorder, Bipolar Express, for RTHK Radio 3. Guests include the irrepressible Ruben M, comic Josh Walters, Hong Kong ballerina Kiki Wong and psychiatrist (Sadie's psychiatrist!) Dr. Barry Connell of Central Health.
Bipolar in Hong Kong? Join Bipolar Hong Kong!