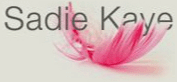 Sadie Book Signing @ Dymocks Hong Kong April 16th 2015
Sadie will be signing copies of her debut children's book, The Wishing Machine, at Dymocks Sai Kung on April 16th from 5pm onwards. The evening event is as much for young at heart adults as for kids. There will be nibbles and refreshments laid on. HUGE thanks to the fragrant Ursula, Dymocks Sai Kung owner, for organizing the Hong Kong book signing event in Sadie's hometown.
In more exciting news, Sadie has been invited to participate as an author in the Hong Kong International Young Readers Festival 2016, which takes place early next year.