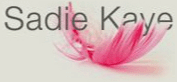 Sadie's Awards Date with Sir Bob & IDS
Sadie attended the Centre For Social Justice Awards in London with pal Iain Duncan Smith and Live Aid legend, Sir Bob Geldof. Sadie's been working with the PM's Secretary of State for Work & Pensions helping grassroots charity organizations fight poverty and crime since 2008, when she hosted & produced a documentary series investigating the work of the Centre For Social Justice for Channel 4.
Sadie was accompanied to the awards by two former mentees:?Luke Tucker, who she met through The Prince's Trust & recently sponsored to train as a horse whisperer,?and Daniel Doran, who she met & mentored during her years working as a volunteer mentor at Feltham Young Offenders Institute.