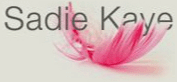 Sadie Sleepwalks to RTHK!
Sadie was caught sleepwalking at work today, reliving some of her most embarrassing moments on the lovely Noreen Mir's 123 Show on RTHK. You can hear the interview on the RTHK website. Catch Sadie as 'Miss Adventure' every Thursday on RTHK Radio 3. Sadie wrote an article, appropriately called My Life Asleep, for Art Saves Lives Magazine, which was also published on UK mental health charity SANE's website. So she's officially in Sane this week… No change there, then.
She also heard, via Steve James, that her documentary Bipolar Express has remained at the top of Radio 3's leaders boards for several weeks! Thanks to everyone who listened and made it one of RTHK's most popular docs ever! The quirky doc, which Sadie produced & presented for Radio 3, was also nominated by RTHK for an Association for International Broadcasting award in the Radio Creative Feature category. The awards take place in London in November.