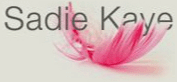 Sadie to present Mental Ideas Podcast on RTHK
In her Mental Ideas Podcast, Sadie takes an irreverent and humorous look at innovative, cross-cultural approaches to tackling mental health, performing bold social experiments and discussing the results with an eclectic mix of guests from the worlds of politics, entertainment, film, the arts & charity.
A co-production between Mental Ideas and RTHK, the pod will broadcast weekly in 10 min episodes on RTHK with filmed 'extras' on the Mental Ideas platform. Showman Mat Ricardo will be presenting a regular slot! The podcast launches Dec 2018.