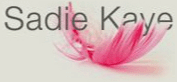 Sadie's 'The Bipolar Express' to air on Radio Television Hong Kong 24/5/15
STAY TUNED: Sadie's documentary The Bipolar Express airs on RTHK Radio 3 at 8.30pm on May 24th 2015. The lively 30-minute roller coaster through the euphoric highs and crashing lows of the bipolar mind, which Sadie presents and produced for RTHK, features contributions from Ruben M Tuck, Joshua Walters, Ruby Wax, Hong Kong ballerina Kiki Wong and HKSAR's leading expert on bipolar disorder, Dr. Barry Connell. With a month to go before the documentary broadcasts, here's what Head of Radio Television Hong Kong English language programming, Hugh Chiverton, who has had a sneak preview, had to say about the doc:
"I LOVE the doc. The pacing and tone are great. Full of your character, it's really engaging, funny, and enlightening."
(Needless to say, Sadie's most pleased he found it funny…) Catch Sadie as the naughty RTHK radio personality 'Miss Adventure' every Thursday on Radio 3's weekly Drive Time show.