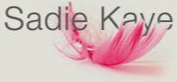 Sadie's 'Bipolar Express' broadcasts on RTHK!
My Bipolar Express doc broadcasts again on RTHK Radio 3 @ 8.30 HKT May 24!
The Bipolar Express is a 30-minute roller coaster ride through the euphoric highs and debilitating lows of the bipolar mind. Produced and presented by Sadie Kaye (Radio 3's "Miss Adventure"), the documentary gives an enlightening account of the perks and the pitfalls of living with bipolar disorder.
Catch me as RTHK Radio 3's Miss Adventure every Thurs/ Fri on Drive Time.